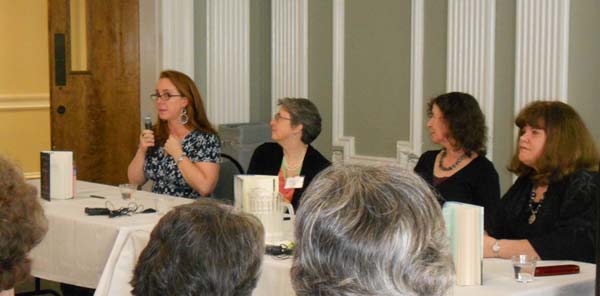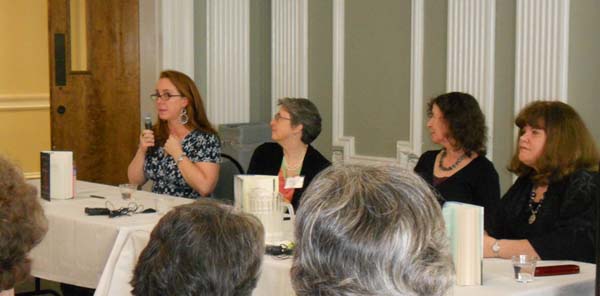 Friday March 23 I was the moderator for a panel at the 2012 Virginia Festival of the Book sponsored by WriterHouse, an organization of which I am a founding member. This was a panel I initiated, after hearing that Margot Livesey's new book, The Flight of Gemma Hardy, was a reimagining of Jane Eyre. I had also read Hillary Jordan's book, When She Woke, and knew that it was a reimagining of The Scarlet Letter, so a vision for a panel began to form. When I heard Sharyn McCrumb would be coming to the festival with her latest book, The Ballad of Tom Dooley, an Appalachian version of Wuthering Heights, I knew we had a winner.
We had a lively discussion, with a standing-room-only crowd in the McIntire Room of the Jefferson-Madison Regional Library main branch. Some of the topics of discussion: retelling vs. reimagining, what is it about classic tales that make them grist for retelling, how each author navigated the question of how close to stick to the original story (Sharyn McCrumb included actual dialogue from Wuthering Heights, Hillary Jordan's characters' names are very close to those in the Scarlet Letter, Margot Livesey used the broad plot outline of Jane Eyre with some rearranging of characters and relationships).
Responding to a discussion about archetypes in classic stories, Margot Livesey characterized her novel as an orphan story and a pilgrimage story. Hillary Jordan described her book as an outsider story and a pilgrimage. Sharyn McCrumb's book is a meticulously researched account of a true historical event. When describing the difference between writing history and historical nonfiction, she said nonfiction writers can "walk" through the events, where, as a novelist, she must "dance."
And afterward, there were many books to sign.