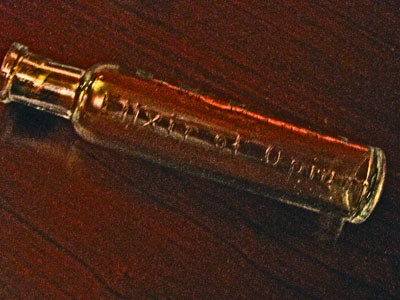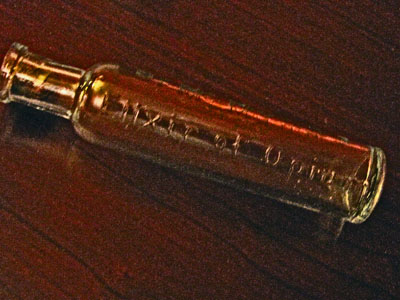 Opium plays an important part in the plot of my unpublished novel A Useful Life. Before I started writing, I researched the history of opium, its effects on the human body, and the behavior of addicts.
I was on a self-imposed writing retreat at a cabin in West Virginia when I wrote one of the scenes in which a character is experiencing hallucinations. It was summertime and extremely hot, so I was sitting outside on the bank of the river. At some point, I just couldn't concentrate, so I went into town to browse the art galleries and antique stores.
Some of the booths in the antique stores were selling empty glass bottles and vials of various sorts, so I thought it might be interesting to search for something related to opium. When I saw the vial pictured above, I was elated. Embossed along the side are the words, "Dr. McMunn's Elixir of Opium." I had no idea if it was authentic, but it wasn't too expensive, so I purchased it.
When I got home, I found on the internet that it was a popular brand of patent medicine available in the United States from about the 1840s until the 1900s. It was a product that could have been used by my character.
I've had the vial now for several years and keep it on the shelf in my writing studio. The thought of an upstanding citizen of a community being an opium addict was one of the ideas that sparked my imagination in the first place and made me want to write my novel. Why do some people succumb to addiction and how does it divert their life paths? What does it do to those around them? Is it possible to intervene? These are questions I wanted to explore. Of course, the novel asks many other questions as well, but the opium vial is a reminder to me of the genesis of this story.


Here are a couple of other photos of a different vial with the wrapper intact. Thanks to Lynda Dalpe for sending these to me.