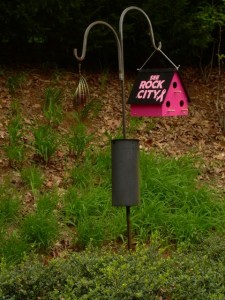 I finally got around to assembling and putting up my limited edition pink Rock City "Survivor Birdhouse."  Thanks, Susan! If you don't know about Rock City, it's a natural wonder of Tennessee. Check out their website.
I hope it's not too late in the spring to attract some birds. Bluebirds were checking out one of our birdhouses earlier this week but apparently decided not to move in. There are baby chickadees in the other birdhouse.
Can't wait for the letter from the neighborhood association architectural review board about the unapproved house colors!