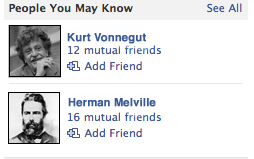 I've written a novel. It's not published (yet), but I've written it. So have a boatload of other people. Some of them have been published, and I'm Facebook friends with a number of them. I meet authors through my volunteer job as president and author event organizer for WriterHouse (a nonprofit writing community center), organizing and moderating panels at the annual Virginia Festival of the Book, and at places like the Sewanee Writers' Conference.
When my Facebook friend list reached some critical mass of authors connected to other authors, I started getting a lot of suggested friends that were pretty famous. Now almost all the suggestions I get are people that I wouldn't in a million years presume to ask to be my Facebook friend unless I were in a position to meet them sometime. Apparently all authors are connected to all other authors by not that many degrees of separation.
I wonder, do other professions/arts work the same way? If you're an aspiring musician, does Facebook suggest you "friend" Elton John? What's your experience of the connectedness of your global community?